Description
The TMS Unicode Component Pack allows you to develop applications that can use Unicode capabilities in Windows.
Features and Features of TMS Unicode Component Pack:
Over 60 direct VCL alternate controls to enable Unicode in the application

Enable Delphi / C ++ Builder Unicode

Working with almost any IME

Local Unicode support

WideString field flow and settings in the form

Integrated migration from Delphi 6,7,2005,2006,2007 or C ++ Builder 6,2006,2007 applications to Delphi 2009 & C ++ Builder 2009

Unicode functionality in Windows NT / 2000 / XP / 2003/2008 / Vista / 7
List of TMS Unicode Components:
Standard:
TTntMainMenu

TTntPopupMenu

TTntLabel

TTntEdit

TTntMemo

TTntButton

TTntCheckBox

TTntRadioButton

TTntListBox

TTntComboBox

TTntScrollBar

TTntGroupBox

TTntRadioGroupBox

TTntPanel

TTntActionList
Additional:
TTntBitBtn

TTntSpeedButton

TTntStringGrid

TTntDrawGrid

TTntImage

TTntShape

TTntBevel

TTntScrollBox

TTntCheckListBox

TTntSplitter

TTntStaticText

TTntControlBar

TTntLabeledEdit

TTntMaskEdit
Win32:
TTntTabControl

TTntPageControl

TTntRichEdit

TTntTrackBar

TTntProgressBar

TTntUpDown

TTntDateTimePicker

TTntMonthCalendar

TTntTreeView

TTntListView

TTntPageScroller

TTntStatusBar

TTntToolBar

TTntTrayIcon
Data Controls:
TTntDBGrid

TTntDBText

TTntDBEdit

TTntDBComboBox

TTntDBCheckBox

TTntDBRichEdit

TTntDBLookupComboBox

TTntDBLookupListBox
System:
TTntPaintBox
Dialogs:
TTntOpenDialog

TTntSaveDialog

TTntTaskDialog

TTntFindDialog

TTntReplaceDialog
Other:
TTntForm

TTntFrame

TTntStrings

TTntStringList

TTntFileStream

TTntResourceStream

TTntRegistry

TTntIniFile

TTntClipboard
These controls are not capable of adding Unicode to Windows 95/98 / ME and will run on a 32-bit version of Windows. But the controls only support Unicode in Windows NT / 2000 / XP / 2003/2008 / Vista / 7.
Click here for full TMS Unicode information.
System Requirements TMS Unicode
for Delphi 7, 2007, 2009, 2010, XE, XE2, XE3, XE4, XE5, XE6, XE7, XE8, 10 Seattle, C ++ Builder 2007, 2009, 2010, XE, XE2, XE3, XE4, XE5, XE6 , XE7, XE8, 10 Seattle (Prof / Enterprise / Architect)
TMS Unicode images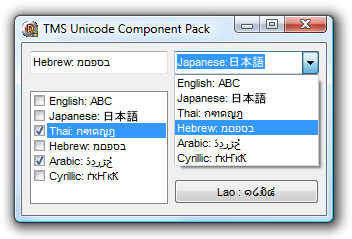 Installation guide
Available in install.txt file.
download link
Download TMS_Unicode_Component_Pack_v2.5.0.1_XE10-10.2
Download TMS Unicode Component Pack 2.0.0.0 Full Source with 10.3 Berlin
Download TMS Unicode Component Pack 2.1.0.0 Full Source
Size
5 MB