Description
ManicTime software for managing and tracking your time that you spend your daily tasks. After you install and run this program, all your activities such as web browsing, working with the software and registration and then just in terms of daily and monthly and annual reports to see whether you have the time ?! What do you spend most of your time? What you are more applications or websites? During the past month were of a Web browser or a researcher and reader of? ManicTime all the work done in the background, and you need to perform certain settings, you do not need to enter activities manually. All the things that you do with your computer automatically recorded and categorized by software. What is the time spent on tasks Harj computer? Here are the ManicTime predict, any time the system switched back to the work you have done in your app records to be included in the reports. Summary adventure that uses the program will easily understand what has happened to you since
Features and applications ManicTime:
 Automatic tracking your activities
Rich reports (daily, monthly and periodic)
Security of your information (recorded information will not be sent somewhere)
Working offline, all offline and local information in your system will be logged.
View summary and graphical data to realize faster time consuming process
Sending output in different formats including Excel
The ability to integrate with other applications such as Jira or GitHub
Take advantage of ManicTime in companies and teams who need an app server version
Tagging activities (for example, tag Facebook \"likes\" and tag for the word \"work\")
The possibility of logging off the computer.
Activities in record time using a stopwatch
And …
required system
.NET Framework 4.0
Pictures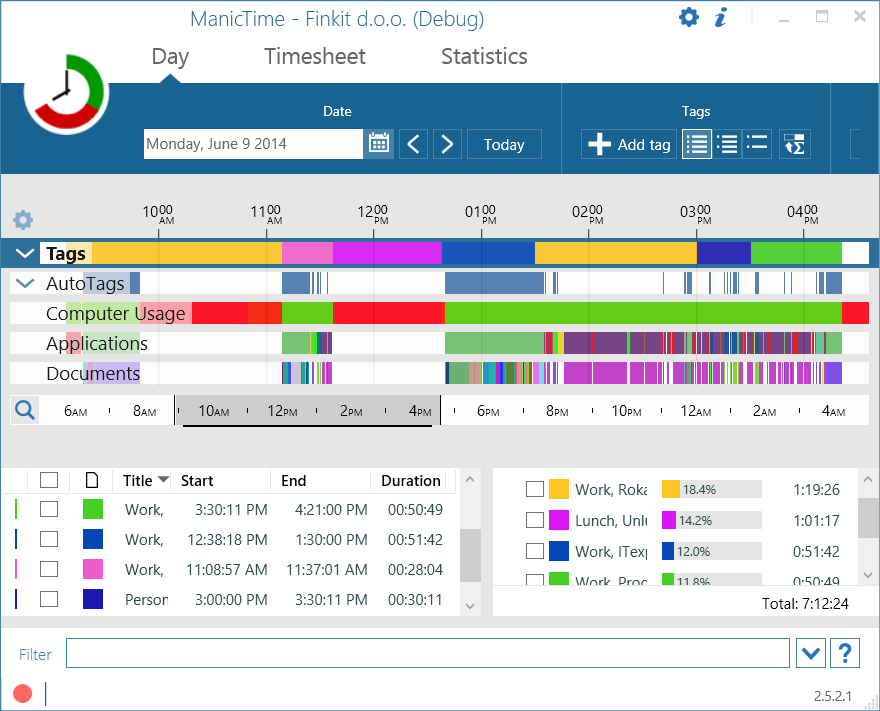 Installation guide
Once installed, run files and apply Patch to Run administrator.
download link
Download ManicTime Pro 5.1.4.1 Multilingual x86
Download ManicTime Pro 5.1.4.1 Multilingual x64
Download ManicTime_Pro_4.4.8.0_Multilingual_Portable
Size
82 MB